Frequently Asked Questions
Questions about the product
How should I understand the recommended age for a Quadro product?
The recommended age for some of our products is up to 4 years. Of course, Quadro can be enjoyed much longer than that. Then what does the age represent? It's to give you an idea of how long the product will be fun for your child based on its size and complexity. To keep things interesting, you can always change your Quadro into different designs, even without the purchase of additional extensions or parts.
As your child grows and their abilities advance, your designs can become larger and more complex with additional parts and kits. All Quadro products are compatible with each other. Add a slide to any climbing frame, turn your fort into a soapbox with wheels — Quadro is active play without boundaries.
Quadro is mainly made of polypropylene (PP) and high density polyethylene (HDPE), both plastics considered safe for food packaging and containers.
Is Quadro environmentally friendly?
Polypropylene (PP) and high-density polyethylene (HDPE) are marked with the recycling codes 5 and 2 respectively.
Polypropylene is one of the most neutral plastics and contains only two elements: carbon and hydrogen. Both plastics are considered safer, non-toxic and environmentally friendly alternatives to other plastics.
Quadro is very safe. It's free of PVC, BPA, PAHs, phthalates and lead. Quadro parts exceed the European safety requirements for toys (EN 71).
Our safety certifications:
DIN EN 71-1:2013-12*
DIN EN 71-3:2013-07*
DIN EN 71-8:2013-8:2011-11*
ZEK 01.4-08 / QMA 2001.1284*
DIN EN 15777 / QMA 2001.1300
DIN EN ISO 17294-2
TÜV GS (01/27/2014)
What temperatures can Quadro withstand?
The plastics Quadro is made from are also used in food packaging, making the parts resilient within a temperature range of -10 to 40 ºC (14 to 104 ºF).
Note: Low temperatures can quickly lead to water on panels freezing, creating a danger of slipping.
Are new Quadro parts compatible with older sets?
Yes! All Quadro parts are compatible with each other, all the way back to the original from 1979. If you have found or inherited older parts, we recommend inspecting them for cracks, fading or any other damage before building with them.
A good test is to construct a cube using 35 cm tubes and a panel, and put it under a load of 100 kg. A slight bending of the panel is normal, and it should reshape after the weight is removed. We also recommend cleaning the older components before combining them with new ones, as sand and dirt can make connections more difficult.
If you are looking for inspiration, visit the Quadro Model Database. Additionally, you can create your own designs in 3D using our Quadro Design Program for Windows. You can find it in our Downloads section.
What is the maximum weight Quadro can support?
That depends on the design. A cube constructed with 35 cm tubes and a panel can support a 100 kg adult without the panel breaking or being damaged. The panel will bend slightly and regain its shape when it is no long under load.
However, a 2 x 2 Quadro frame reinforced with a Plexiglas top can withstand a 5-ton African elephant. We know that because somebody tried it.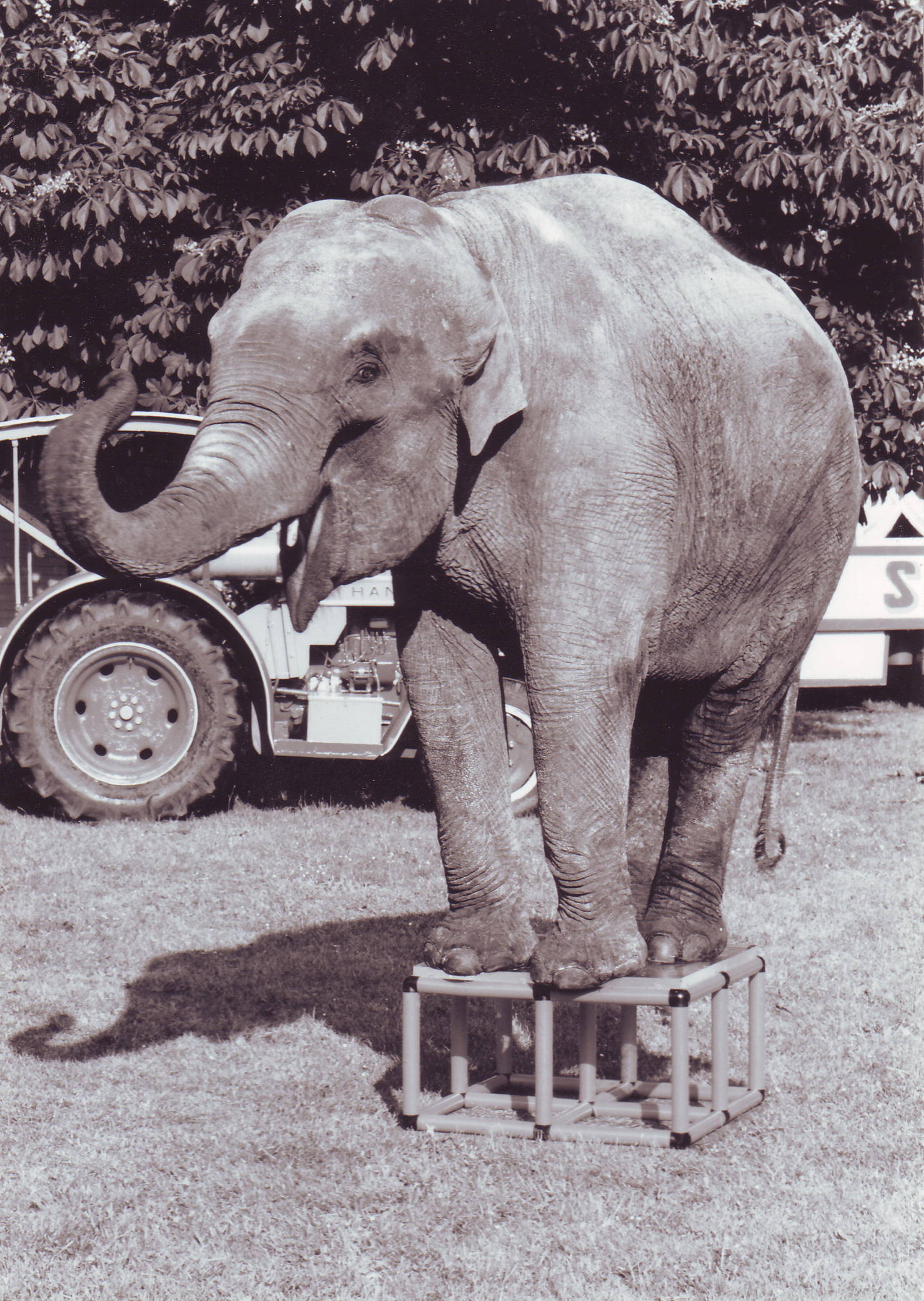 Is there a maximum age for using Quadro?
No. General Quadro usage is without age restriction. If a particular design no longer suits a grown child, it can be adapted to a more fitting use — for example, as a piece of furniture.
Where can I download instruction manuals?
You can find instruction manuals as well as other information about kits and designs by visiting the QUADRO Model Database.
Does Quadro fade in the sun?
Quadro is treated with an ultraviolet (UV) stabilizer for protection against the sun and its effects on color. However, nothing can resist the sun's power indefinitely. Given enough time in the sun, Quadro will slowly begin to lose its shine.
We have customers who have kept original sets from the 80s outdoors for over 15 years. The components were still red, but dull rather than shiny.
Can I use Quadro in chlorine or salt water?
Yes. Quadro is made from polypropylene (PP) and high-density polyethylene (HDPE), which are resistant to salt, acids and bases, grease and detergents. Of course, exposing Quadro to chlorine or salt water means its shine will fade sooner than normal.
Where can I download a design's QDF file?
QDF files are available for download at the QUADRO Model Database. There you can find more information about kits and designs.
A Quadro Design File (QDF) contains a 3D model of a Quadro construction. It is fully editable using our QUADRO Design Program (Windows). You can find it in our Downloads section.
It's also possible to create your own designs from scratch and save the QDF for later reference or editing. Your imagination is the limit. Have fun designing!
Is there a way to design a construction project before building it?
The Quadro Design Program (Windows) was specially developed for that purpose. It's a 3D editor for creating and customizing your own designs. You can find it in our Downloads section.
The program opens "QDF" files. Download a design's QDF file from the QUADRO Model Database to quickly get started customizing.
Can I build furniture with Quadro?
Yes, of course! Quadro is a construction system using tubes, connectors and panels, making it perfect for building anything.
Why am I having difficulty separating the parts?
Normally Quadro is as easy to take apart as it is to build. However, it can become more difficult under certain circumstances. For example:
Your kit hasn't been taken apart for years
It has been left in all kinds of weather
It had been constructed in a sandy area
This problem is reversible. We recommend the following:
The day before taking it apart, hose the model down with water. (Skip this step if the temperatures are around freezing.)
Take the model apart around midday when the outdoor temperature is peaking.
Try disassembling now. If certain parts remain difficult to separate, use a mild liquid lubricant from a spray bottle to reduce the friction between the parts. Give them a little shake and turn to distribute the lubricant.
Be sure to use a key that gets good torque on the screw.
Next, remove all screws from the model. Only then begin to remove the pipes from the connectors.
Once the model is completely disassembled, give all parts a thorough cleaning to remove any dirt, sand, grass, etc.
Damaged parts should be replaced with new ones. (The age of your kit does not matter as original parts from 1979 are still compatible with today's.)
How do I completely empty the pool?
To remove the water beneath the valve, go to the opposite end of the pool and lightly lift up on it to continue draining the water. The water level will sink low enough that it is safe for you to flip the pool over.
The drainage valve on Quadro pools is positioned higher to prevent damage to the bottom of the pool liner.
Why does the pool have a slimy film?
It's called biofilm. The longer water stands, the more time naturally occurring bacteria have to live and grow, forming a slimy substance on surfaces. We recommend changing the water daily (maximum 2 days). Since this is a children's pool, we advise against using additives. Clean the pool with normal household cleaners.
How can I reduce the buildup of static electricity?
There are the following basic tips in order not to unnecessarily impair the fun of the game through electrostatic charge.
Air humidity
An important factor for the containment of electrostatic charge is the air humidity. The drier the air, the stronger the charge! A humidity of 40% should normally be sufficient to minimise the risk of static electricity. However, this value must be measured regularly and adjusted with room humidifiers if necessary. It should also be noted that moist cloths underneath the Quadro frame do not immediately produce the desired effect, but need some time. In gardens, briefly watering the substrate would be a quick solution.
Floor covering
Low humidity in combination with rubber soles that are moved over laminate, for example, leads to friction and thus to electrical charging — which cannot be dissipated due to the insulating properties of plastics. You should therefore avoid rubber soles.
Slide runout
It is also helpful to cover the runout of the slide (only the bottom side!) with aluminium foil. Experience has shown that sliding leads to the highest friction and thus electrostatic charging. The aluminium foil works against this.
Why is attaching the runout to the slide so difficult?
Attaching these slide parts is not the same as general tube and connector assembly. This is a 2-person job. The parts need to be aligned carefully in order for the screw to turn easily. You may need to use a thick flathead screwdriver for greater torque.
Why do I see white marks in a part?
This is called "stress whitening" and is a normal side effect of the plastics used by Quadro (polypropylene or PP, and high-density polyethylene or HDPE). Over-stressing a component can cause discoloration. This is unavoidable. However, this is only cosmetic damage — the component is still structurally sound and can remain in use.
Note: Our 6-year guarantee covers damaged or broken components and not cosmetic wear.
Are a kit's part colors evenly divided?
Colors are divided as evenly as possible, but not perfectly as not every kit comes with an even number of parts.
What happened to the Double Tube from the 80s and 90s?
The Double Tube was replaced by the Double Tube Connector. The Double Tube Connectors are considerably more stable and can withstand much higher loads. The Double Tube from the 80s and 90s consisted of two tubes welded together. Two Double Tube Connectors connect two standard Tubes in an extremely stable manner.
Technically speaking, the same models can be realized. So you can replace a Double Tube with 2 Double Tube Connectors plus 2 tubes.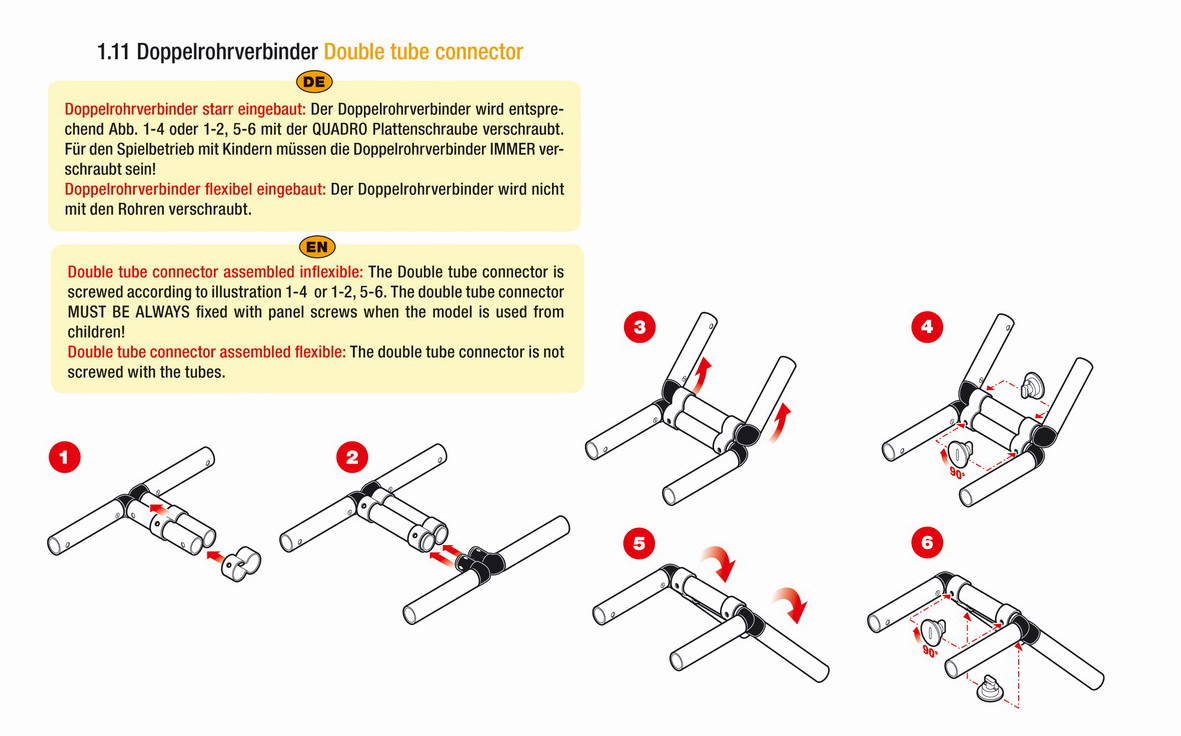 Are Quadro parts washing machine friendly?
Sure! But don't use a water temperature over 40 ºC (warm, not hot).
Can I construct designs with only the Upgrade Kit?
No! The Upgrade Kit enhances construction kits like the Climbing Pyramid and Universal. On its own, the parts are not comprehensive enough to build a climbing frame. You can find examples of combinations with the Upgrade Kit in our Model Database.
How important is the parts count when choosing a construction or extension kit?
The raw number of parts in a construction or extension kit should not be the most important factor when deciding which kit to buy. It is the diversity of parts which determine the age group and play styles a kit is designed for. The pricing system is fair so that you and your child can concentrate on the kit that fits you best.
What is the difference between the 3 Quadro slides?
All three slides are made in Germany and fully compatible with the entire Quadro system. The differences are in the details. Below is an explanation.
Curved Slide
A space-saving design, the curved body enables the construction of compact designs.
In addition, it can be used to create a double slide by removing the yellow runout to connect a Modular Slide.
Dimensions: 125 x 85 x 90 cm (49.2 x 33.5 x 35.4 in)
Modular Slide
This is a classic straight slide ideal for any Quadro climbing frame. It has been one of the best-selling straight slides in the world for the past 30 years.
It can also be used to create a double slide by removing the yellow runout and connecting a second Modular Slide.
Dimensions: 165 x 48 x 90 cm (65 x 18.9 x 35.4 in)
Integrated Slide
This single-part slide is manufactured differently than our other slides. An upper and lower shell are permanently connected to form an extremely rigid body. In addition, no screws are required for assembly or attaching it to the frame, thereby reducing the maintenance requirements. The slide runout sits about 20 cm (7.9 in) high, so children can exit the slide on their feet.
Dimensions: 140 x 50 x 95 cm (55.1 x 19.7 x 37.4 in)
Overview
The Curved and Modular Slide can be raised from the ground so that the runout is higher.
The Modular and Curved Slide's runout can be removed to construct a double slide. The platform height required for a double slide is 165 cm without a pool and 205 cm with a pool.
All slides, whether alone or as a double slide, can be combined with Pool L or Pool XXL. The Integrated Slide, due to its 20 cm runout height, can only be used with Pool XXL.
Due to the Integrated Slide's 20 cm runout height, it is not compatible with the Slip and Slide extension.
All slides have a water hose connection.
The high rigidity of the Integrated Slide is also achieved in the Modular and Curved Slides when they are attached to their frame. Technically speaking, all slides achieve the same stability when installed.
All slides are compatible with the entire Quadro range, whether recently purchased or inherited from 1979.
All slides can be used in winter and summer, indoor or outdoor.
Are the Double Tube Connectors under tension?
Yes. The Double Tube Connector is slightly angled, so that depending on its rotation it will either push a connected ramp lightly onto the floor, or support a ramp that is pointing upward.
You can see a good example of this here. An illustration for how to install the Double Tube Connector can be found in the QUADRO safety instructions under 1.12. Find it in the Downloads section.
Can the Round Textile be stretched tight?
The Round Textile (00363) — not the Roof Textile (00353) — may be tight. Especially when it is gathered, this strengthens the tight fit. It can even give the impression that it does not fit at all. This happens especially during installation when on one side it already half covers the tube, while on the other side you start to pull it onto the tube. Please note the illustrations under 1.19 in the Quadro Safety guide. It shows that the textile always covers both tubes in equal parts from the start. Just make sure that at the time of installation both tubes must always be covered with the same amount of textile and then pulled evenly over the tubes.
What are the dimensions and article numbers for all Quadro pool kits, liners and covers?
Here is a summary of all the pool information for you here.
Pool XS
Pool kit: not available
Pool liner: 10017
Pool cover: 11218 (includes fasteners)
Dimensions
Constructed: 85 x 85 x 25 cm (33.5 x 33.5 x 9.9 in)
Pool internal: 82.5 x 82.5 x 25 cm (32.5 x 32.5 x 9.8 in)
Pool Liner XS is perfectly suited for the Evolution kit. Check out the following combination of Evolution with Pool Liner XS.
Pool S
Pool kit: 10960
Pool liner: 10012
Pool cover: 11220 (includes fasteners)
Dimensions
Constructed: 145 x 85 x 25 cm (57.1 x 33.5 x 9.9 in)
Pool internal: 122.5 x 82.5 x 25 cm (48.2 x 32.5 x 9.8 in)
Pool L
Pool kit: 11670
Pool liner: 10022
Pool cover: 11219 (includes fasteners)
Dimensions
Constructed: 245 x 125 x 45 cm (96.5 x 49.2 x 17.7 in)
Pool internal: 162.5 x 122.5 x 45 cm (64 x 48.2 x 17.7 in)
Pool XXL
Pool kit: 11680
Pool liner: 10032
Pool cover: 11221 (includes fasteners)
Dimensions
Constructed: 325 x 125 x 45 cm (128 x 49.2 x 17.7 in)
Pool internal: 242.5 x 122.5 x 45 cm (95.5 x 48.2 x 17.7 in)
What makes Quadro different from other climbing toys?
Everything Quadro can be combined. An original kit from 1979 is compatible with anything we sell today.
Quadro comes with a 6-year guarantee on connectors, tubes, screws and panels, far above the industry standard.
Quadro is an extremely versatile construction system — you can build something else rather than buy something else.
Quadro lasts an entire childhood making it more valuable than single-use themed toys that lose their appeal after a while.
Quadro can be used indoors or outdoors any time of the year.
Quadro is an honest product designed to last for generations rather than becoming obsolete in a few years.
Quadro parts are recyclable, making them much more environmentally friendly than many wooden playsets, some of which are treated with chemicals to protect against the elements and decay.
How can I achieve the perfect sliding conditions for my Quadro slide?

You can improve sliding conditions for all QUADRO slides as follows:
Make sure that the humidity is not too high (30-40%) and the ambient temperature is around 20-23° C (68-74º F).
Your children's play clothes should contain a lower percentage of synthetic materials or none at all.
Maintain the sliding surface with car interior cleaners.
If the slide is old and worn out, we recommend replacing it, as well as any other parts that have been affected by heavy use. You can buy all parts separately.
For maximum sliding fun connect a water hose! You can also combine your kit with a Pool L, Pool XXL or the Slip and Slide and you will have your own waterpark! Watch the videos below for a better impression.
How do I attach the cover to my Quadro pool?
Below is an example of how to attach the cover to Pool L. The technique is the same for any Quadro pool. The supplied rubber loops of the cover are stretched around the panel screws (also supplied), which are previously attached in the lower area of the pool. The tight fit is necessary so that the cover sits as securely as possible.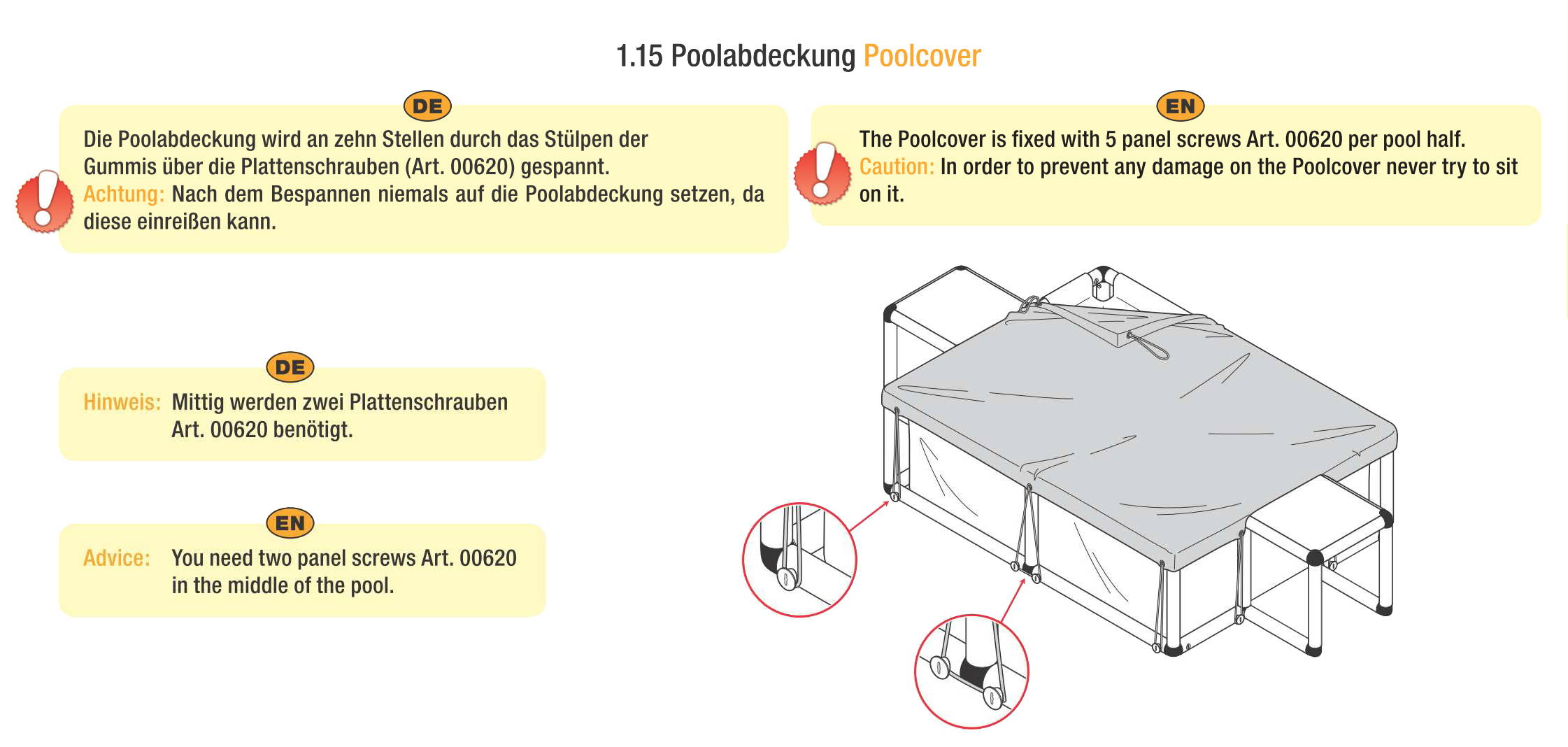 How many balls can fit in a Quadro pool?
The below amounts are based on balls with a diameter of 6 cm (2.4 in).
Pool XS: less than 500
Pool S: 500
Pool L: 2000
Pool XXL: 3000
What is the aluminum profile for?
The aluminum profile fulfills various areas of application. It is primarily used to help our pool kits withstand the stress of water weight over years of use.
The aluminum profile is also used in QUADROpro models, which endure thousands of children throughout the year.